If you're stuck for an idea for a Valentines gift this year then why not choose something less traditional and go for something trendy, unique and cool – a 3D printed gift!

3D Printed Chocolate Love
Choc Creator Version 1 is a 3D printer which can print using chocolate. Choc Edge is offering to create any 3D shape you desire out of chocolate for Valentine's Day. They can make a mask of your face to give to your loved one to kiss and eat. The technique uses rapid prototyping with layers of molten chocolate instead of plastic. All you have to do is send an image of yourself via email and they will create your 3D face. In addition Choc Edge can print up any design you can dream up in chocolate and print your personal message on the delicious gift.
3D Printed Jewelry
There are many online platforms where you can create and design your own 3D printable jewelry and get it made for your loved one this Valentine's Day. For example Dyo (Design Your Own) is offered by Matter.io and lets you design your own 3D jewelry in your browser. You can add a message written onto the jewelry and you will always know it is one of a kind – just like your love!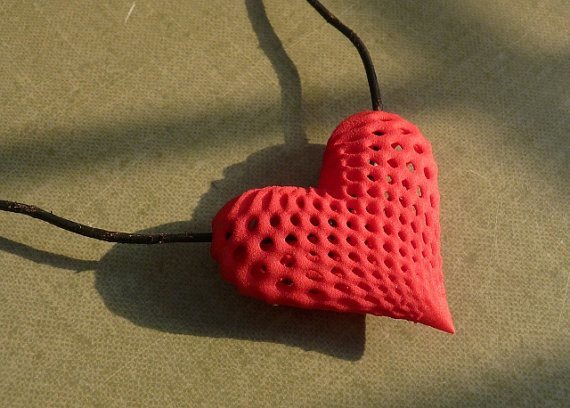 Lovely Whistle
On i.Materialise you can get a specially crafted 3D printed whistle created by Michael Mueller. The compact whistle is printed in brass and is gold plated then polished. The elegant whistle has a heart design on it so it is only meant for calling someone you love. Delivery time is 15-18 days.
Scarf pin LOVE
Get this unique scarf pin made of polyamide and sold by Studio-ePosh on i.Materialise. The pin has the word LOVE embedded in the cubic structure and it is possible to personalize the pin with initials. The pin comes in red, blue and black and delivery time is 8-13 business days. This Valentine's Gift comes with an authenticity card and in a luxury box.
Love Bone
The Love Bone is an intricate piece of jewelry which appears to be made of strands. The Love Bone is sold on i.Materialize by Studio Mango and is brass with a gold plated polish. The minimalistic sculptured shape can be threaded to create your own heart shape and made larger or smaller to your taste. Delivery is 15-18 business days.
Heart of Time
This incredible piece by Andre Greiner-Petter is a polyamide sculpture shaped like a heart with an opening so that you can see the workings of the heart inside. If you look through the opening there are the illuminated cogs of a clock. The pieces are white adding to the purity of the heart and the symbolism is clearly that your heart is always ticking with love for your one-and-only. The Heart of Time takes 8-13 days for delivery.
This is only a small sample of the many 3D printed Valentine gifts you can buy readymade online or create yourself.