When choosing a 3D printer you obviously have to take into account what you plan to use it for as not all 3D printers can perform the same functions. Among the hottest 3D printer for 2015 are printers which are multi-functional, economical and easy to use.



New Matter MOD-t ($279)
This is the cheapest of the good quality 3D printers; it is also quite a simple model with a minimum amount of parts. It is perfect for first time owners who don't want to invest too much or get too involved in the technical aspects of the process.
MakerBlot ($1,375-$2,900)
MakerBlot's models include the Replicator 2X, Replicator and Replicator Mini. The Replicator is MakerBot's 5th generation of 3D printers and is designed to make printing fast and easy. The Replicator 2X has duel extruders for two colors; it prints from SD cards and has user-friendly software.
Printerbot Simple ($350)
This is an affordable option for those looking for a simple 3D printer. It comes as a build-it-yourself kit and has no extra frills. The quality is good and the machine uses PLA material to produce small objects. It is a good choice for those wanting to learn about 3D printers from the inside out.
Cube 3D ($1,000)
This is a very user-friendly printer with a clean-cut design and desktop appeal. The Cube is operated from your Smartphone or computer with WiFi and can print in two colors. (out of a choice of 20). The software is easy to use and the machine simple in comparison to others.
CEL Robox ($1,416)
With this 3D printer you can use several types of plastic to produce a diverse range of objects. The printer is compact and a capable of more than most 3D printers of this size.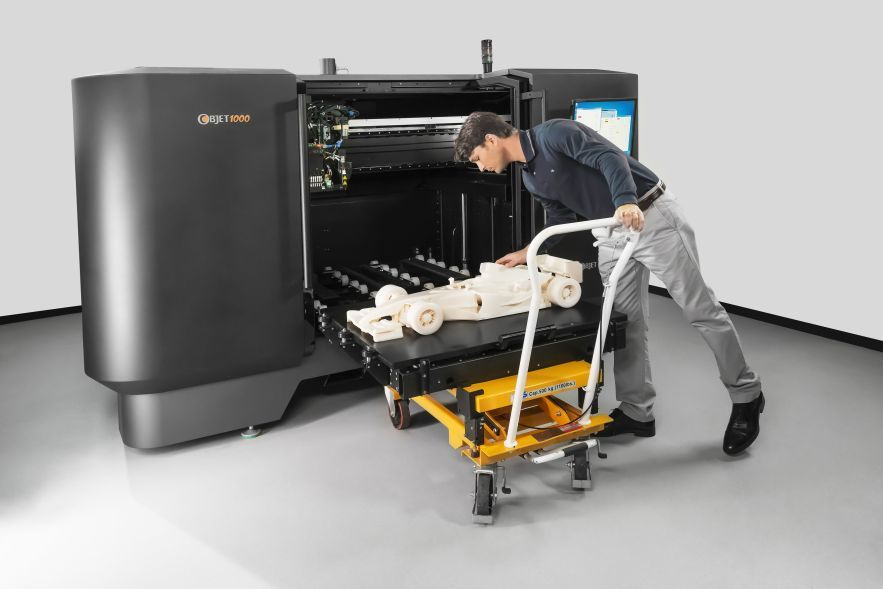 Mini Kossel ($800)
This 3D printer requires self assembly and is reasonably priced for those who want to produce larger objects using its delta-robot, although it is not exactly desktop-friendly in size. You will need some 3D printer knowledge to assemble the printer.
Ultimaker 2 ($2,499)
This is the ultimate 3D printer for printing speed, precision and high quality results. This 3D printer is suitable for both novices and professionals and comes with accessories and solid software. However the machine is not WiFi compatible.
Formlabs Form 1+ ($3,300)
The Formlabs Form 1+ uses lasers to shape liquid resin instead of building the objects in layers. This means no high temperatures and a higher resolution.
Stratasys Mojo ($9,995)
The price makes this a choice for small businesses rather than the home. The machine comes from one of the most reliable names in the industry and offers good tech support. The printer uses ABSPlus thermoplastic and can make complex and strong objects.
DittoPro ($2, 50-$1,899)
DittoPro is aesthetically pleasing and has a large build volume, great resolution and fast production. The machine comes fully assembled. It is one in a line of 3D printers from the Tinkerine family and has a quick swop extruder, is durable and precise.