Time is running out to enter the Thingiverse.com Countertop Challenge. The deadline is on March 14th 2015 and so far there have been 56 entries. The challenge is aimed at people who look at space and feel like doing something with the emptiness; people who see an empty canvas rather than nothingness. If you feel inspired and want to put your innovative thinking to work then this challenge is for you. The competition is open to site users who are over 18 years old at the time of entry. You can also participate if you are under 18 so long as you have written permission from your parent or guardian.
The entries simply have to offer an idea of how to fill the space between your kitchen counter top and the bottom of your upper-kitchen cabinets. In other words design a kitchen counter top tool which could be created using a MakerBot Replicator. You could come up with anything that is aesthetic, practical, fun or all three. Ideas include unique utensils, special lighting, embedded sensors or a weight-sensitive cutting board. The designs are allowed to be purely 3D printed designs or they can incorporate electronics, WiFi enabled, have a USB port or device which is added after the 3D printing process is complete.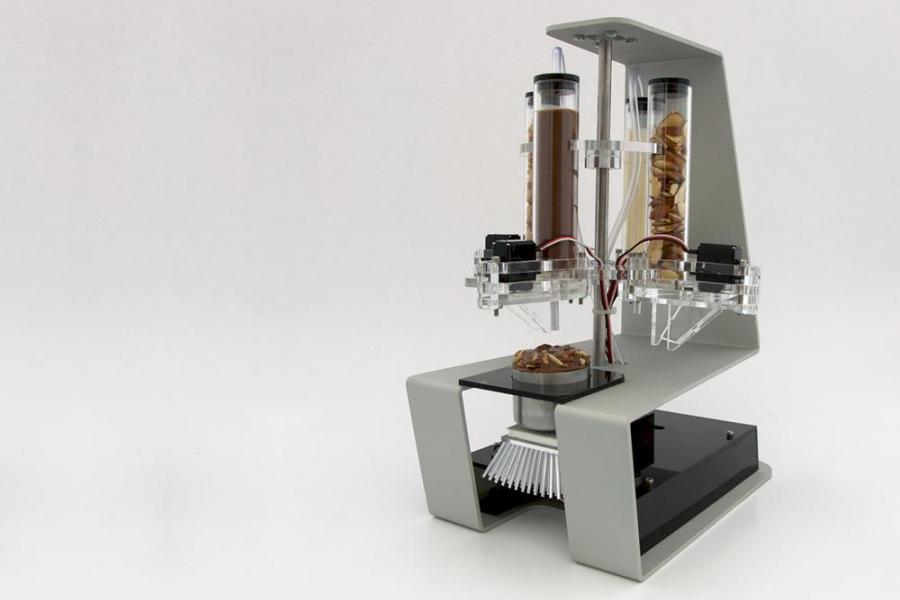 To give you a little inspiration here are a few of the items already entered in the competition: A cube food vault; a swiveling banana holder stand; veg and flower holder tubes (supportless and single print); a boiled egg holder that looks like a chair; a spice rack with little men holding up the spices; an auto filer and leveler; a tentacle-looking mug holder; a butter cutter; a soap and sponge drain holder and a set of salad tossers that look like the jaws of a T-Rex.
Those interested in taking part need to upload their designs to the FirstBuild Challenge page and Thingaverse.com using the hashtag #CountertopChallenge. 10 entries will be chosen by votes of online social media communities; another 10 will be chosen by a team of experts from FirstBuild and Thingiverse. Then the 20 will be presented to a panel of expert judges to make the final selection. The winner will be featured on the Thingaverse homepage and the FirstBuild social media channels. The winners will be announced on April 20th. First prize is the choice of either a MakerBot Replicator Desktop 3D printer (5th generation valued at $2,899) or a MakerBot Replicator 2X Experimental 3D Printer (valued at $2.799). Second prize is a MakerBot Replicator Mini Compact 3D Printer (valued at $1,375). Third prize is three spools of MakerBot PLA filament, a Thingiverse T-shirt and a FirstBuild T-shirt.
If your imaginative juices are now flowing then get sketching and enter to win your own MakerBot 3D printer.