Seokhee Oh is engaged in managing and operating the WikiFacturing Camp in the Gyeonggi Content Korea Lab in Pangyo, South Korea, and he works for SeongNam Industry Promotion Agency. But apart of this and most importantly, Seokhee is a father of a son. The story of this 3 dimensional van Gogh starts when his son, Myung-Jin Oh brings home a creative project assignment for his winter break, the project turned to 3D printing to bring it to life.
Myung-Jin Oh has a passion for drawing and creativity, he admires the work of the famous impressionist painter Vincent van Gogh. Seokhee Oh wished that his son's project to go beyond any drawing or painting. In other side, he found the browser based Tinkercad app for simple 3D modeling, with the objective to 3D print a van Gogh piece on their Almond 3D printer from Opencreators. So, the father and son duo went for work and searched for the ideal Van Gogh piece for the project.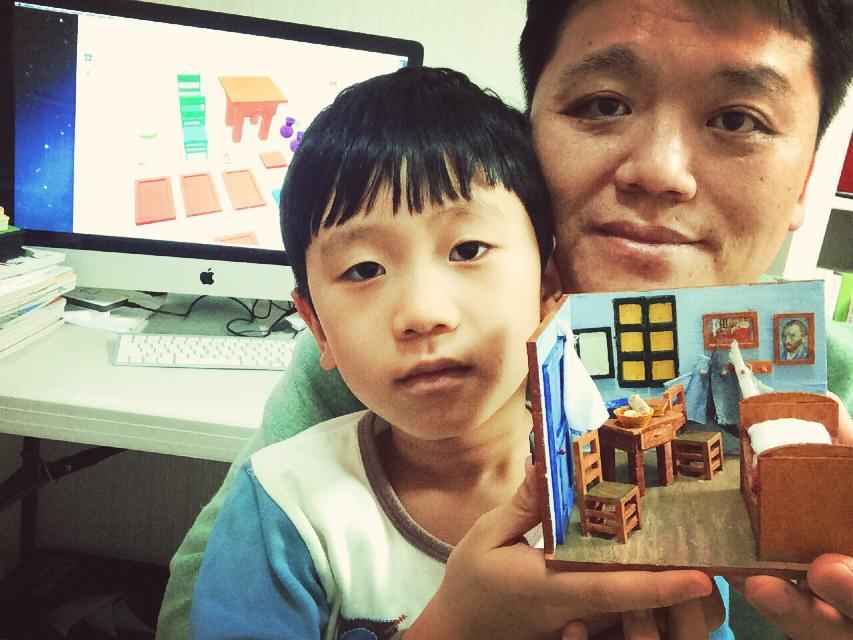 They searched over many internet images, visited an exhibition also, read book on the artist twice and watched a movie about the artist. Ultimately, they chose Bedroom in Arles, of which Van Gogh had made 3 versions. Then, Myung-Jin Oh was added his own ideas to it. He sketched out his piece and then worked with his father to make a printable model in Tinkercad.
After the pieces got printed, they used acrylic paint to duplicate the brushstrokes of Van Gogh, cut cloth for the room's curtains and bed sheets, and even reproduced the items on the nightstand in the painting. After this Myung-Jin Oh found his own 3D version of Bedroom in Arles, and Seokhee now have memories to share with his son for the artful years ahead.