Chocolate is one of the materials which is a natural candidate for use in 3D printers. The fact that it can be easily converted to a liquid is an advantage. There have been many chocolate 3D printers that have come and gone or are in the process of being developed but the one which is causing the most noise in the 3D printing world at the moment is the ChocoJet. The ChocoJet appears to be the most sophisticated 3D chocolate printer as yet created.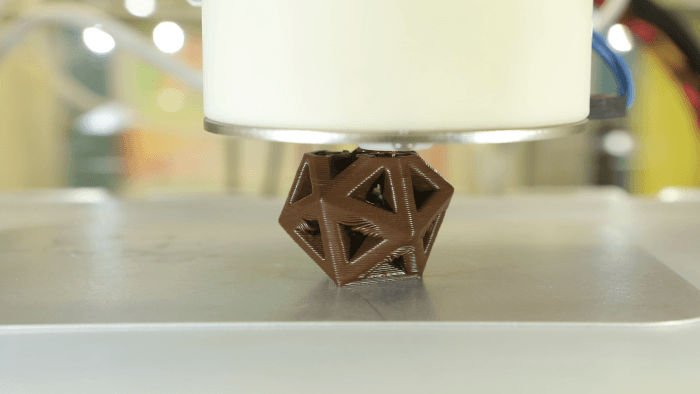 ChocoJet and ChefJet Chocolate 3D Printers
Last year 3D Systems collaborated with The Hershey Company to create the 3D Chocolate Candy Printing Exhibit at Hershey's Chocolate World in Pennsylvania. In January 2015 the team was ready to present us with the ChocoJet at the 2015 International Consumer Electronics Show (CES) in Las Vegas. The printers have the ability to print a wide range of designs in dark, milk and white chocolate but can print with only one kind of chocolate at a time. The printer can produce complex custom designs and intricate shapes. It is possible to scan your face or an object and then print it in chocolate. The liquid chocolate is mixed with a solution to make it possible to rapidly cool and harden after it is squeezed out of the printer nozzle. It passes through a cooling chamber to allow it to hold its final shape. Then it prints the chocolate in successive thin rows, building in layers like a conventional 3D printer. The printer works relatively slowly, producing about 5 custom chocolates an hour.
3D Systems showcased their ChefJet series at the same exposition, specifically the ChefJet Pro which is geared towards the professional bakers, chocolatiers and confectionary market. The ChefJet Pro is the first professional-grade 3D chocolate, candy and sweet printer. It is based on ColorJet Printing Technology and has intuitive chef-friendly digital cookbook software which can create a number of flavors. The difference between the ChefJet and the Chefjet Pro is that the Pro can print in color and has a larger build platform. The ChefJet Pro is expected to hit the market in the second halfof 2015.

Other 3D Chocolate Printers
The Albert Hejin Supermarket chain in Holland recently introduced 3D printed chocolate decorations for cakes in their Eindhoven store. It is the first 3D printing of food offered commercially to the general public from a high street outlet. Customers can create their own customized ornaments by creating a sketch that is then transferred to a STL file and printed on a byFlow portable 3D printer. The compact printer can use a variety of materials in addition to molten chocolate.
Choc Edge is a website which offers bespoke 3D printed chocolates and cake decorations. You can also buy one of their 3D chocolate printers and create your own sweet treats at home. ChocaByte is a 3D chocolate printer marketed as the first affordable and compact personal chocolate making appliance using 3D printing technology.
In 2015 the 3D chocolate printer market is set to boom, providing not only 3D chocolate printers to professionals but also to hobbyists, novice chocolateirs and chocoholics at home. It won't be cheap but it will be delicious.