Shoes are the accessory which you wear everyday no matter what line of work you are in. But how you think about the actual shoemaking process? Traditional footwear manufacturing is an old practice that has relied on the same old techniques. However, Zoe Jia-Yu Dai, the fashion graduate and designer has shaken the things up, and she turned to the process of 3D printing to get the job done.
The talented and young designer has released her collection of nature-inspired, high-end 3D printed shoes and named it "Breaking the 3D Mould." Her project seeks for changing the physical limits of traditional shoemaking processes and creates designs that would be impractical or even impossible to produce with traditional methods such as machining or molding.
The custom made women footwear collection is almost and entirely 3D printed, from the heel to the top. In this process, four 3D software packages were used to create the models. In terms of printers, the artist used a model named FDM for prototyping and an EOS printer for manufacturing the heels and giving them a superior finish.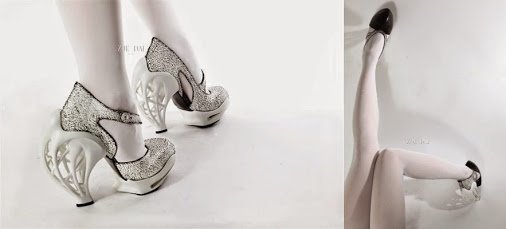 Shoemaking is a very complicated process, and Jia-Yu Dai had to follow five precise steps in order to achieve her desired end. The foremost stage was to form individual 3D printed lasts using foot scanners to obtain the exact parameters of her clients' feet. The second step is to create and form the shape of the shoes. Jia-Yu Dai began by hand-drawing the designs, reproducing them as 3D models and then printing prototypes of those heels. The third stage involved creating the embossed leather upper of the shoe. Here also 3D printing technology was used to create and print the embossing stamp. The fourth stage used more traditional shoemaking processes like pattern cutting, stitching the leathers and making the insole and outsole.
Finally, the fifth stage was to print the finished heel using an EOS 3D printer, spray-paint it an elegant white, and assemble it to the body of shoe.