Shapeways makes the 3D printing an interesting work by allowing designers to leverage 3D printing in an innovative way. Whether, they are making custom products, innovative designs, or designs that are simply not possible without the use of the 3D printers. One of the very eye catching Shapeways shop by designer Mani Zamani creates incredible SLS that is Selective Laser Sintering, 3D printed toys that wouldn't otherwise be possible without 3D printing technology.
The 3D printed toy collection of Mani which is called "Extra Terestri Aristocrats" is printed in the nylon plastic material, Shapeways material, and is available in various dyed colors. His toy designs are very unique and take on complex and unimagined shapes. Some of his toy designs are printed with moving parts and are fully articulated without any assembly straight from the 3D printers. Zamani spends about three full months, from the initial idea and sketching phase until he has finished the modeling of a toy, always uses Rhino3D to create his 3D printable models. He then uses Shapeways to have his toys printed using Selective Laser Sintering machines.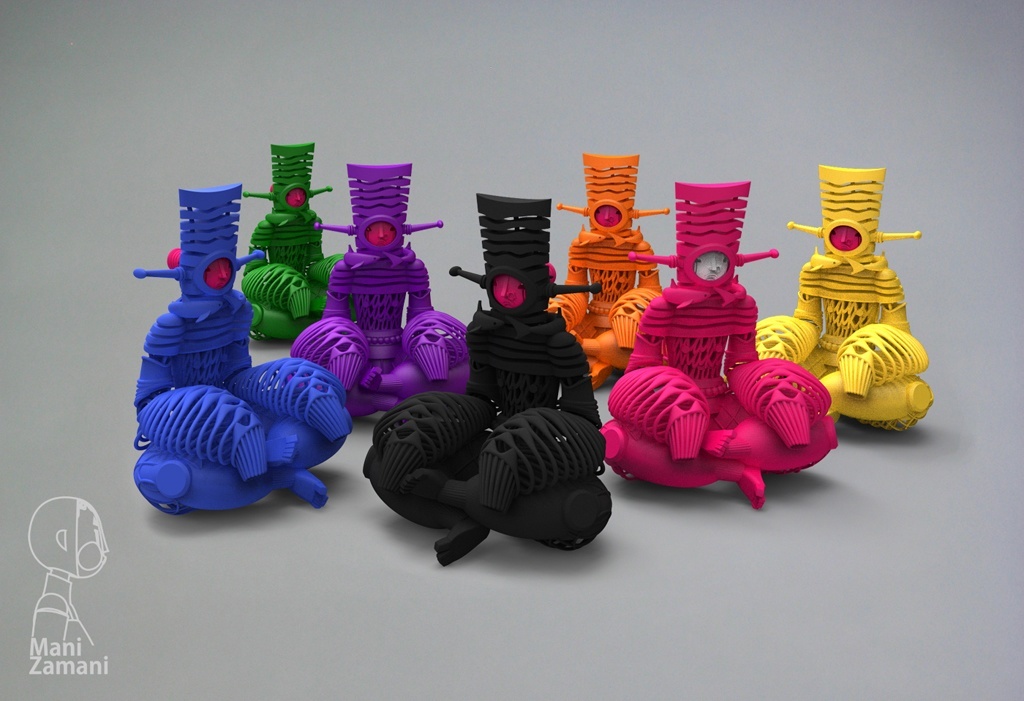 While these are considered collector grade toys, Zamani does tell us that some do have movable parts which allow them to actually be played with as well. The Shark pasha figurine has a slight flexibility to its hands which are able to be posed in order to hold the objects. Mostly though, these toys are aimed at collector communities, showing off "the evolution of our culture and technology".
So, what do you think of these unique 3D printed toys? Are these something you would want sitting on a shelf in your home? If not our nylon plastic material is a great material for pushing the limits for what traditional toys are suppose to look like. Explore more 3D printed toys and creative designs from our community on our marketplace.