No this is not about a plastic recreation but the recreation of Van Gogh's ear from living human cells. The creator of "the ear" said:
"I use science basically like a type of brush, like Vincent used paint."

The story behind the ear
Post-impressionist painter Vincent van Gogh (1853-1890) famously cut his left ear off in 1888, wrapped it in paper and sent it to a brothel. Van Gogh was known to be mentally unstable and an anguished creative genius. The ear cutting incident has been retold many times, often in a romantic light. It is said he sent the ear to a woman he loved; that he did it in a psychotic fit and that the ear lobe was lost during a fight with his friend and fellow artist, Paul Gauguin. The artist then painted a self-portrait of himself with his wounded ear bandaged around his head.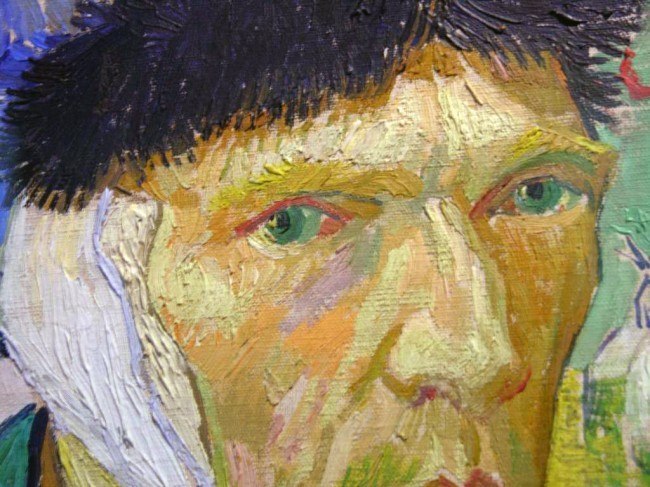 How was Van Gogh's ear recreated?
American-based, Dutch artist, Diemut Strebe created the ear at "Brigham and Women's Hospital" in Boston. Her goal was to combine art and science. Strebe used live cells from Lieuwe van Gogh, the painter's great -great nephew who donated cartilage from his own ear and saliva for DNA. The distant relatives share about 1/16th of the same genes. Strebe used computer imaging to make the ear identical in shape to Van Gogh's ear. Strebe then printed the ear using 3D Bioprinter and computer software. Once the ear cells were printed in the shape of the ear it was left to grow. The ear is technically alive. In order to continue to "live" the ear is suspended in a container filled with a "nourishing liquid." The ear can technically "hear" and could be kept alive for years because of the preservative solution surrounding it.
The ear contains the Y-chromosome, which is passed down by male relatives. With the help of a female relative work is underway to include the mitochondrial DNA, which is passed down by the females.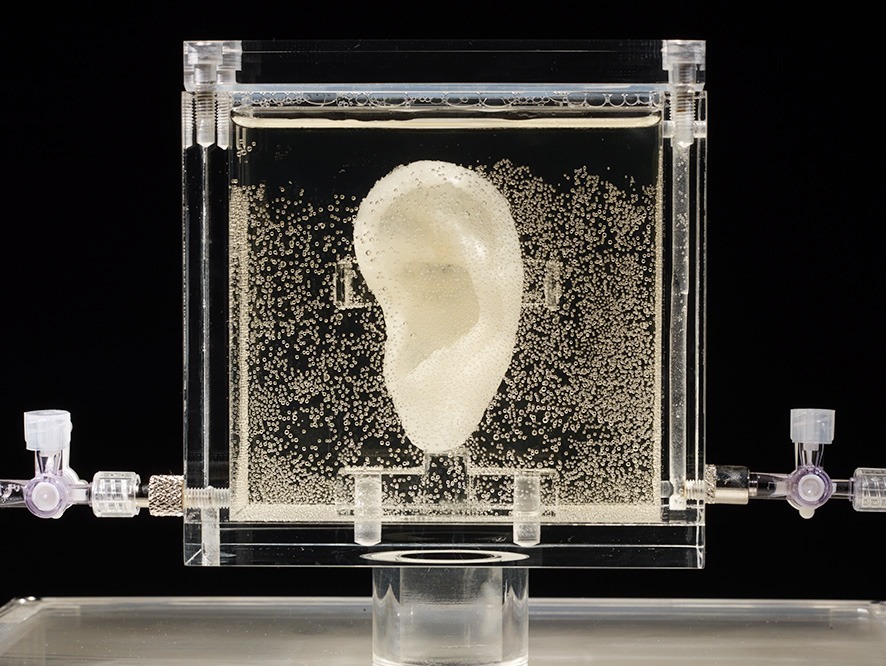 The significance of this work of art
An artist may have done the recreation of Vincent van Gogh's ear, but the medical significance carries more weight than the artistic merit. Recreating body parts using living tissue and DNA is a remarkable achievement and this artistic exercise proves that it is completely feasible with a 3D printer. The technical term is 3D Bioprinting and it has already been done with other human tissues using 3D printers. In the future it may be possible to simply "grow" replacement parts for damaged or diseased limbs and organs.

Van Gogh's ear was displayed at the ZKM Media Museum in Karlsruhe, Germany and was presented with a lecture by Noam Chomsky. Visitors to the exhibition were invited to talk to the ear through a microphone. Plans are underway to display the ear in New York and other locations as part of Diemut Strebe exhibitions.