Lilah LaValle is a German fashion designer. She dreams of an innovation and started working on her first new outfit for 2015 late last year. She posted the entire detailed process on her official Facebook page, giving a clear cut map for the process of giving a unique 3D printed clothing accessory a life. The idea began from the spare time spent Lilah and her boyfriend spent together. Her boyfriend is British mechanical engineer and industrial robotics designer currently working in Sweden. She says, it was her boyfriend's idea to use 3D printing in the design. 3D printing is a vital part in Daniel's daily work, but I had never used it before.
They start their working and at first they used a 3D scanner to obtain the 3D surface contour from a dressmaker's dummy. With Solid Works, the surface was then trimmed to the outside dimensions and the internal design structure was added. LaValle next published the initial 3D digital concept of a design as a polygonal mesh.
Only a month later, her brilliant idea takes the final form. The designed wearable corset was printed by Shapeways using nylon. It is thick and strong but it also has some flexibility to conform to the shape of the wearer.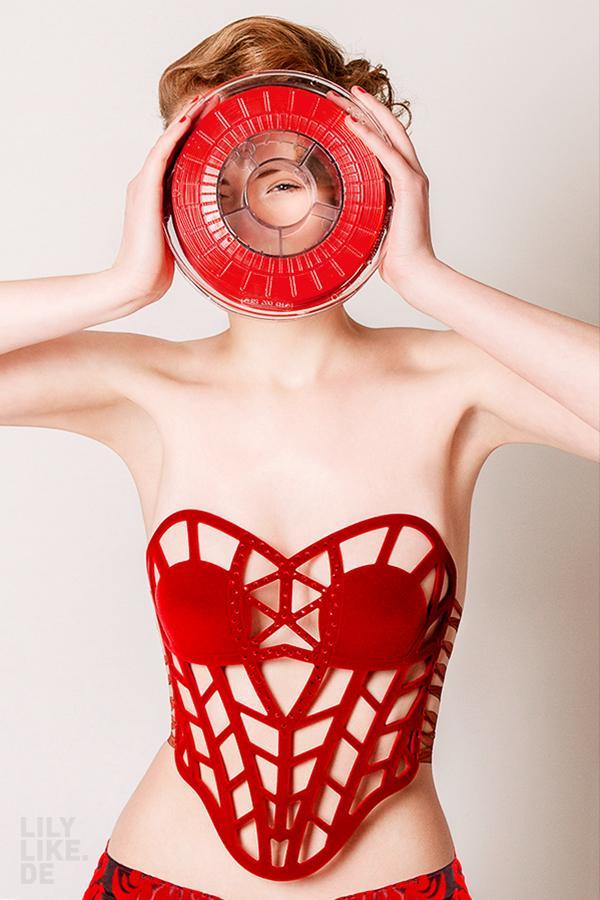 The completion of the corset took about approximately a month. However, the result is very impressive. The velvet corset is coated with red fibers following printing using flocking, a process in which short fibers are bonded to the surface. For inducting the fastening ribbons there are oval holes at the sides of corset. We also used some red ribbon. The corset acquired a deep red velvety surface finish and the number of likes on the Facebook post has grown considerably.