3D printed jewelry has entered in the market but in the starting it doesn't get that attention but a Swiss jeweler Shawish recently who recently opened a new flagship store in South Kensington, London, asked 3D printing experts and local design studio to design eight bespoke, in store display cases to convey the brand's image.
Studio which he asks has been using its experience with 3D printing especially with SLS technology and nylon to carry out several interesting and important collaborations with brands such as Nike and Converse, and many other numbers of artists and studios. House of Luxury, event management, the public relations and marketing company who have signed the studio, may have underestimated the studio's design capabilities. The displays are laser sintered and are so stunning that that they may even slightly overshadow the jewels themselves.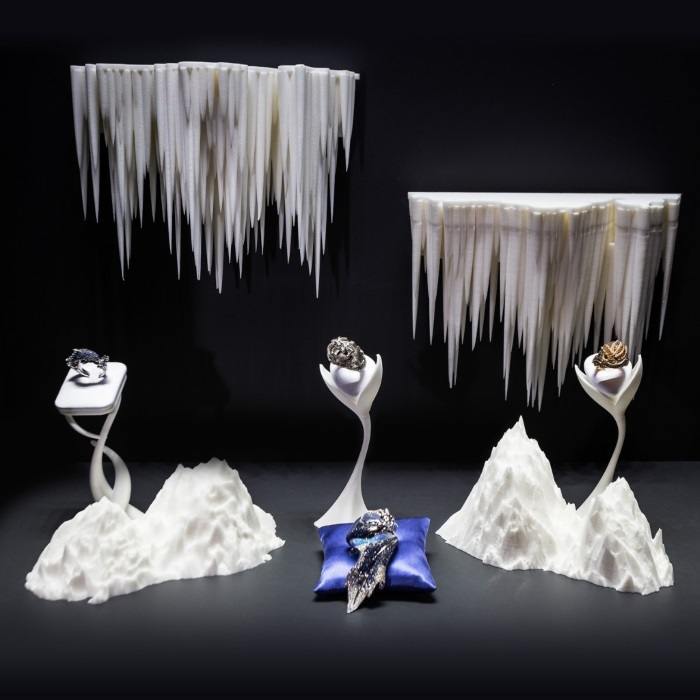 Obviously, that is not really the case. In fact the decorations are made tailored so that each jewel stands out even more. It is a setting that is perfectly rendered through the use of 3D printing, even laser cutting, and a addition of carefully balanced lighting.
The Shawish Shop Installation project took about one month to complete. Over the course of the first two weeks, studio transformed 2D concept sketches into digital designs and 3D models. And then the studio spent the second two weeks getting all of the parts 3D printed and finished.
Each case is almost a work of art in and of itself. One model re-enacts a white and icy landscape, while another is a sea inspired, made to display a gold octopus. Other works are more delicate and convey the dreamy images, which blend with the colors of jewels and through carefully chosen lighting which is reflecting on the white nylon. Whether the cases more or less beautiful than the jewels but they hold is a matter of discussion.